James Brown
Twenty hours after leaving home we arrive at the Radisson Riverfront Hotel, anchored neatly by the Savannah River, Georgia. The writer Johnny Cigarettes went out for local flavour and I went to my room, not knowing what the next day would bring. It was just before Christmas, the next morning after grits and waffles we went downtown for some shopping. It was very quiet and we seemed to cause suspicion; one shopkeeper had worked out why we were there. There were few details about the shoot, except we can't cuss, talk about sex, guns or drugs and we have to call him Mr Brown...
Back at our hotel we spruce-up, eat and get ready to go. The journey to Augusta had been fraught with lost baggage, missed planes and a misunderstanding at immigration. It left me feeling I needed more preparation time at the Sheraton Hotel, where we were meeting Mr Brown. Our limousine arrived an hour early, as we had requested and apprehension deepened. At that moment we discover our car has been organised by Mr Brown. We approach the Sheraton uneasily, another stretched limo appears. Our driver says that it is Mr Brown, as we draw alongside the hotel entrance we stiffen; have we upset him by altering his arrangements?
Johnny and I try to make ourselves invisible; Mr Brown gets out of his limo. He peers into ours, taps on the window and introduces himself. Slumped in our seats we look ridiculous, venturing out, he is standing next to his bodyguard, the width of three men. 'Hi! Be sure to take a picture of my car.' It's the longest I have ever seen. We have met Mr Brown and he is good, if not delightful. He was dressed in an all black leather suit, so shiny it looked like it had been cleaned with boot polish.
He disappears and we make for the lobby hustled by hundreds of teenage girls attending an ACDC convention. We were shown to a small drab meeting room. I hurriedly set up my background and lights. Mr Brown walks in with his bodyguard, his friend the chauffeur and the Judge who is his manager and attorney; he is a little smaller than the bodyguard but not much. Introductions over and Mr Brown is discoursing about Germany, how much he likes the country and its people. We think this is odd but then again it is not a normal day. More on German record sales and eventually the penny drops. Johnny and I look at each other, he thinks we are German. 'Actually we're English from Loaded magazine.' 'Hey cool.' The conversation adjusts. After questions about what we think about Clinton, we survive.
It's time for pictures, gleaming teeth in every shot. He performs and I capture and he is generous in spirit and time. We are liked and we get invited to his radio station. Just before we leave, his tailor arrives for a fitting. At the radio station, which is visible through a window from the street, we set up for more pictures and we are interviewed on the radio as 'cool dudes' from London, England.
Tomi Rae Hynie, a singer James Brown is trying to promote arrives. We presume she is his girlfriend, she is. A little boy outside with his nose pressed up against the window catches Mr Brown's eye and is invited in for a photo opportunity. They dance and the boy leaves clutching a big dollar bill. More chat, everyone thinks the job has gone well, and we are to be rewarded with an invite to dinner. Apparently there is a 'swell' English pub in town and Mr Brown wants to take us for fish and chips. The look on Johnny's face says it all. We left the radio station in James Brown's limo, its benched seats covered with black leather and a bar that would satisfy the most eager of drinkers.
We arrive at the King George Pub and we are introduced to the owner and his wife who are from Bournemouth. It was very familiar with dartboards, Watney signs and beer mats. James Brown was welcomed and greeted as we took our table as he had been all day long. Saying continuously, 'I feel good.' We all sat down at a long table in a back room, the bodyguard and the chauffeurs took a table nearby. We ordered our beers, James Brown added salt to his; apparently it improves the taste. The first course came, I settled into the food and my first alcoholic drink for a week. There was feeling of apprehension and a disapproving looks. All of a sudden arms appeared around the table, we hold hands and say grace.
Conversations developed with warmth, James Brown professed words of wisdom, holding court with his eager listeners, agreeing to all he said. We ate our fish and chips, they were some of the best I have had. Fish and chips with Mr Brown.
It was time to move on, we passed through the crowded pub, more requests for autographs. For a moment we were part of his life and that was no bad thing. We hung about the street outside, farewells and promises of continued relationships. Affirmation of work well done, hugs, handshakes and kisses. He disappeared into the night with Tomi Rae. In seven years time almost to the day James Brown would be dead.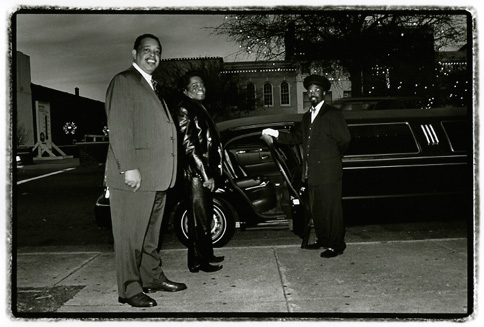 Time to celebrate. On Mr Brown's advice we go to the Soul Bar, like most bars in Augusta, it was dedicated to him. We sunk a celebratory beer, without salt, surrounded by young musical hopefuls and then moved on to another eponymous bar. The time zone debilitation and Mr Brown's generous persona got the better of me. I left Johnny to fight the night. I went back to the hotel via James Brown Street with James Brown murals on every wall.
The next morning was warm, I took a beautiful walk along the Savannah River and saw a freight train with 120 carriages crossing a bridge, letting its long but slow, low whistle blow, reminiscent of western films. I read plaques along the riverbank dedicated to brave soldiers who fought the Native Americans. What about the Indians I thought? A long flight home, more lost luggage and arriving very late to catch up on Christmas in the snow.